we are the 30th chapter of the philippines nurses association of america.
In September of 2002, a group of Filipino nurses from Providence/St. Vincent, Providence Portland, Southwest Washington Medical Center, and Oregon Health and Science University Hospital, headed by Fred Calixtro, formed this association with the aim to assist nurses with open heart, mind and acceptance of their need to be mentored with respect. It was our desire to support each other with the aim to create a strong and cohesive group fostering continued personal and professional growth of the individual member. We wanted to see good nurses stay in nursing and move up in their chosen specialties.
We have come a long way. We have taken many small steps, and these combined efforts have created impressive results.
With the continued support of our dedicated members, these are PNAOW's accomplishments over the last nine years: we were able to fund three medical-relief missions in Capiz, Bicol and Nueva Viscaya. Every year since 2006, the association has volunteered in the feeding of the hungry through the Faith Café Program. We join forces with other volunteers to review immunization records and give immunizations on behalf of the Department of Health, Washington County in Oregon. We also partnered with the Colorado Chapter in building a home for our kababayans through the Gawad Kalinga of PNAA. In 2009, PNAOW has granted educational scholarships to two college students. We also hosted PNAA's Western Regional Conference in 2007. To keep a healthy bank account and to be able to fund all of our community outreach programs, we are active in our yearly fundraisings. These include bowling, garage sales, and dinner dances.  Although PNAOW members are not the best cooks in town, we introduced "Taste of the Philippines" to the community by serving authentic Filipino dishes. Some of our members also provided meals during our scheduled monthly meetings for a fee. Not to forget, the most fun way to fundraise has been to charge penalties to the latecomers during our special events. PNAOW is proud to say that our members do well in supporting our community and providing help to our less fortunate kababayans in the Philippines. We believe in caring and in giving back and we will continue to do so.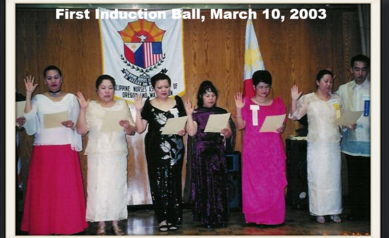 To unite Filipino RNs in Oregon and Southwest Washington
To uphold the image of Filipino RNs in Oregon and Southwest Washington.
1. Develop activities that will foster unity among members.
2. Collaborate with other agencies and associations in the advancement of the nursing practice through research, education, and maintaining the standards of the nursing profession.
3. Develop a collaborative effort with other agencies in formulating outreach programs such as immunization, blood pressure, and glucose monitoring in Oregon and Southwest Washington.
4. Develop an orientation packet for the new members.
5. Mentor Filipino nurses and nursing students in passing the State Board in Nursing and getting acclimated into the nursing practice in United States.
An organization responsive to Filipino-American nurses' needs and a positive force in the world arena of nursing.
The Filipino American Association of Portland & Vicinity, Inc. is a non-profit charitable organization that serves as the bridge and venue for Filipino Americans in their assimilation and integration into the societal mainstream as good and law-abiding citizens; to prepare our youths for future leadership roles while simultaneously providing for the retention of their rich social, cultural heritage and legacies.
Chamberlain University has a 130-year history preparing extraordinary nursing graduates and healthcare professionals. 
A bakery founded on serving the Filipino-American community with fresh and local Filipino breads and pastries.  These include the popular pandesal, pan de coco, ensaymada, and hopia baboy.  The bakery continues to develop delicious creations using flavors and ingredients found in the Philippines.  Something to remember home by.
support us and let's make a difference !​